Share this post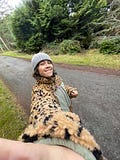 How to Write A Hit!
teganandsara.substack.com
How to Write A Hit!
One woman's journey to write a song.
1 – Take a weeklong trip to a secluded location alone, with no distractions or German Shepherd-Border Collies around. Commit to writing a song a day.
2 – Leave an acoustic guitar laying on the couch so no matter what you do – cook, read, send work emails – you see the guitar and think, fuck, I should write a song at some point.
3 – Give yourself a break at the end of day one and decide you don't really need to write a song a day; a song every other day is plenty. You only need one great song anyway!
4 – Play old songs on day two to inspire new ones. Become defeated by your early work and watch six episodes of Pressure Cooker on Netflix.
Need more songwriting tips?! Consider becoming a free or paid subscriber.
5 – Day three! Look up the chords to other people's songs that you admire. Get distracted learning one of those songs, record it for a friend, then make lunch. Watch more Pressure Cooker.
6 – Search your email for songs you wrote years ago but never released.  Try to learn them.  Become frustrated that you can't figure out how you played the old songs, even though you wrote them, and give up.
7 – Wake up in the middle of the night thinking, oh my god, four days already passed!? HOW?!
8 – Day five! Ride your electric bike to town for supplies and some inspiration!
9 – Google "different guitar chords," "unique guitar chords," and "Adele guitar chords," and then give up playing guitar ever again.
10 – Day Six! Finish Pressure Cooker.
11 – Wake up on your final day and pray Sara has written a banger.
12 – Head home with zero songs but feeling super relaxed (not)!